Psalm 71:20-21
Though you have made me see troubles, many and bitter, you will restore my life again; from the depths of the earth you will again bring me up. You will increase my honor and comfort me once again.
Today my heart is saddened for a family that recently endured tragedy! What do we
do in this life when we feel like we can't go on? That no one cares for our heart?
Where do we have to turn to?
I'm so thankful I now know the answer to those questions! I'm certain we have all had times in our life when we felt we were at the bottom of the pit - stuck in the mud and couldn't see a way out. Today I'm very aware that we have someone that is always with us - loving us and YES running toward us with arms wide open to draw us back into his protective care.
Another fact that is pounding in my heart today: How many of us are reaching OUT OUR ARMS? This is what saddens my heart the most. We have so many souls that are crying out "does anyone care"? Christ commands us to CARE and to LOVE on others.
He has assured us that in this life we will have times of troubles, right? So if we can learn from these times of trial and testings in our own lives and realize WHO IT WAS THAT BROUGHT US THROUGH THE FIRE..... Can't we use the test to become our testimony for Christ.......
Today I am praying that each time something breaks our heart in this world that it will call us to ACTION..............to SERVE.............to LOVE!
In Christ,
Holly :)
I'm joining Meet me on Monday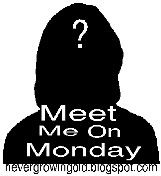 Questions:
1. Do your pants get hung on a hangar or folded?
Folded in my closet
2. If you are stranded on an Island, what 3 things would you need to have with you (not including humans or electronic devices)?
Bible
matches (Just don't think I could start a fire like a boy scout) LOL
sunscreen
3. Where is the farthest you have ever traveled to?
Cancun, Mexico
4. Do you live in a house, trailer or apartment, etc.?
I live in a house on a farm......
5. What is your most hated household chore?
Washing the windows